2019 CompleteEASE Data Analysis Short Course
WHERE:
NIST – Gaithersburg, Maryland
WHEN:
January 29-31, 2019 (Tues.-Thurs.)
TIME:
Sign-in begins at 8:30am
on January 29th
9am-5pm each day
DEADLINE:
Registration ends December 20, 2019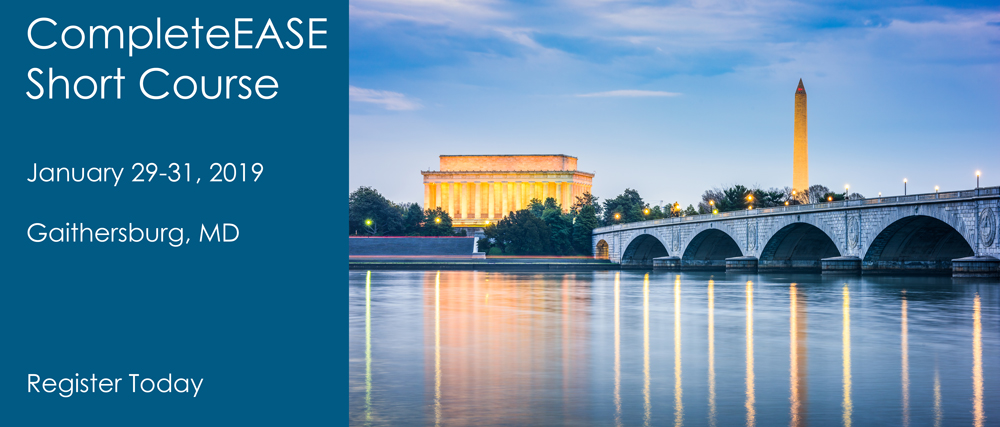 The J.A. Woollam Company is proud to announce a data analysis course designed for CompleteEASE users.  We will introduce the fundamentals of data analysis at a beginner-to-intermediate level. All details will be described using the latest CompleteEASE software (currently version 6.43). This version of software will be provided to all attendees to take home with them after the course. This course is not intended for users that work with other software packages, such as WVASE or VASEManager. As with our other analysis courses participants will work computer examples throughout all sessions.
Please note this short course requires participants to bring their own laptop (Mac or Windows).
Basic theory
Overview of Data Analysis Strategies
Transparent layers
Cauchy Dispersion
Thickness PreFit
Global Fit
Roughness
Index Grading
Parameterize Layer
Absorbing Films
Semi-Absorbing Films
Wavelength Expansion Fits
B-Spline
Convert to Transparent B-Spline (New Feature)
Gen-Osc
Oscillator Model Theory
Fitting SE + Transmission
Thin Absorbing Materials
Multiple-Sample Analysis
Mapping Data
Review
Ronald Reagan Washington National Airport (DCA) is on the Metro line, and it is simple to connect to the Red Line out to Shady Grove, from which a taxi will take you to your hotel.  Rental cars and cabs from the airport are also available.
Washington Dulles International Airport (IAD) is in N. Virginia, and cabs and rental cars are typically used from there.  It is possible to get a cab to the Vienna Metro stop on the Orange line and make connections to get to the Shady Grove stop on the Red line.
Baltimore/Washington International Thurgood Marshall Airport (BWI) is the farthest but can be the cheapest.  Getting from BWI to NIST without a rental car can be complicated, but you can take the MTA train from the BWI Parking stop to Union Station in DC, then take the Red Line Metro out to the end at Shady Grove.  It is a short cab ride from that stop to the area hotels.  Newly available is the ICC Bus, which picks up at BWI and uses the Intercounty Connector (ICC) toll road to get to a park-and-ride lot that is 5 blocks from the NIST front gate and an easy cab ride to hotels.
Prior to the course we will email a map and parking instructions to all registered attendees.
Lunch will be provided all 3 days.
Registration deadline is December 20th, 2019.
Upon receipt of registration, an invoice will be sent via email.
All payments are due by January 15, 2019.  Visa and Mastercard are accepted.