The M-2000® line of spectroscopic ellipsometers is engineered to meet the diverse demands of thin film characterization. An advanced optical design, wide spectral range, and fast data acquisition combine in an extremely powerful and versatile tool. The M-2000 delivers both speed and accuracy. Our patented RCE technology combines Rotating Compensator Ellipsometry with high-speed CCD detection to collect the entire spectrum (hundreds of wavelengths) in a fraction of a second with a wide array of configurations. The M-2000 is the first ellipsometer to truly excel at everything from in-situ monitoring and process control to large-area uniformity mapping and general purpose thin film characterization. No other ellipsometer technology acquires a full spectrum faster.
OVERVIEW
Why an M-2000?
Advanced Ellipsometer Technology
The M-2000 utilizes our patented RCE (rotating compensator ellipsometer) technology to achieve high accuracy and precision.
Fast Spectral Detection
The RCE design is compatible with advanced, proven CCD detection to measure ALL wavelengths simultaneously.
Wide Spectral Range
Collect over 700 wavelengths from the ultraviolet to the near infrared – all simultaneously.
Flexible System Integration
With modular optical design, the M-2000 is suited for direct attachment to your process chamber or configured on any of our table-top bases.
Accuracy
Advanced design ensures accurate ellipsometry measurements for any sample.
APPLICATIONS
The M-2000® is a versatile spectroscopic ellipsometer, suited to many different sample types. Coatings can be dielectrics, organics, semiconductors, and even thin metals.
Optical Coatings
Characterize both thickness and refractive index for single- and multi-layer coatings; anti-reflection, high-reflection, or decorative coatings. Calculate the color coordinates for your coating stack under different lighting conditions.

Chemistry/Biology
The M-2000 can be used for a variety of chemical and biological applications, either as a stand-alone tool or in combination with one of our many accessories. Study materials under liquid ambient, at high or low temperatures, or in conjunction with QCM-D measurements.
Conductive Organics
Great progress has occurred in the area of organic layers and stacks used for display (OLED) or photovoltaic applications. There are many different materials being studied, from small molecules such as Alq3 to conjugated polymers such as P3HT. Often multiple materials are blended together – which requires the wide spectral range of the M-2000 – to probe different wavelengths where the organics are optically different. Long-chain molecules may also have significant anisotropy, where orientational stacking of the polymer chains produces different optical constants in different directions.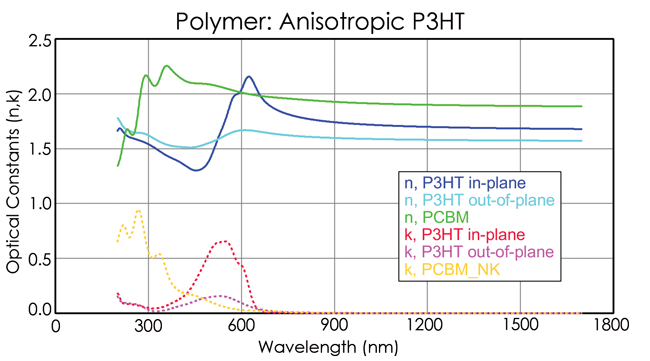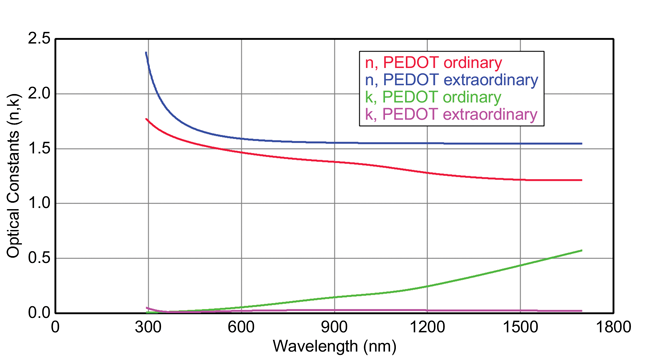 Semiconductors
Traditional ellipsometry applications are still going strong. Characterize any semiconductor material: resists, photomasks, SiON, ONO stacks, low-k dielectrics, high-k gates, SOI, SiGe, II-VI and III-V ternary and quaternary compounds.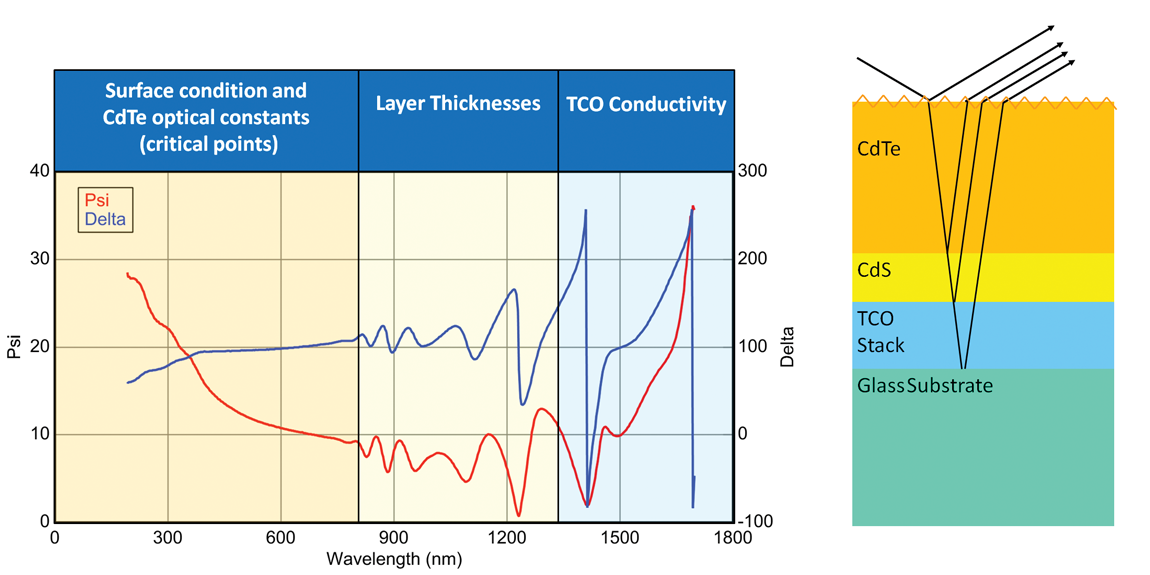 Photovoltaics
Film thickness and optical properties are critical to performance of solar devices. Ellipsometry is used for development and monitoring of all PV materials: a-Si, μc-Si, poly-Si, AR Coatings (SiNx, AlNx…), TCO Films (ITO, ZnOx, doped SnO2, AZO), CdS, CdTe, CIGS, organic PV materials, and dye sensitized films.
In-Situ
The M-2000 is ideal for in-situ monitoring and process control. It is used successfully with a number of different processes to provide real-time results:
MBE
Sputter
ALD
E-beam evaporators
MOCVD
PECVD
Plasma etch
ECR
Liquid Cells
Temperature Stages
Cryostat
MODELS
Automated Angle (Horizontal) M-2000

The horizontal M-2000 system offers wide range of options like large area mapping, liquid cells, and heat stages.

Ideal for general use and large samples.

Automated Angle (Vertical) M-20000

The vertical M-2000 system offers wide angle range and flexibility.
Independent control of sample and detector angle for
diverse reflection or transmission measurements.

Fixed Angle M-2000

Translator Size: 50×50 mm XY

Focused M-2000

The smallest M-2000 spot size available (25 by 60 microns) for demanding feature sizes.
SPECIFICATIONS
Ellipsometer Configuration
Dual RCE
Wavelength Range
D
DI
X-210
XI-210
X
XI
U
UI
V
VI
193-1000 nm
193-1690 nm
210-1000 nm
210-1690 nm
245-1000 nm
245-1690 nm
245-1000 nm
245-1690 nm
370-1000 nm
370-1690 nm
Number of Wavelengths
D
DI
X-210
XI-210
X
XI
U
UI
V
VI
500 wavelengths
690 wavelengths
485 wavelengths
675 wavelengths
470 wavelengths
660 wavelengths
470 wavelengths
660 wavelengths
390 wavelengths
580 wavelengths
Detector
CCD
Angles of Incidence
45°-90° (Automated Angle Base)

20°-90° (Vertical Automated Angle Base)

~65° (Focused Base)

65° (Fixed Angle Base)

65° (Test Base)

Data Acquisition Rate
(Complete Spectrum)
0.05 seconds (2-5 seconds is Typical)
Max substrate thickness
18mm
Facility Requirements
| | |
| --- | --- |
| Power | 100/240 VAC, 47-63Hz, <1 Amp |
Dimensions
Dimensions vary depending on options. More details coming soon.
FAQ
Is automated mapping included?
The M-2000 is highly customizable.  We offer several options for automated mapping.
Is table included?
The table pictured is an optional feature convenient for containing computer and electronics.
Can the M-2000 be used in situ?
Yes.  Modular source and receiver can be attached to chamber.
Which software package is included?
CompleteEASE
What is the difference between M-2000 and RC2?
The M-2000 was the first widely-used high-speed ellipsometer.  It has a long history of success in research and production, and it's optical design includes a single rotating compensator.  The RC2 is a newer design with many of the same great features combined with innovative new technology.  Further, it has two rotating compensators, which allow measurement of the full Mueller-matrix.